Things to consider when hiring your first employee
October 2022 – 15 min read
Key takeaways
Making the decision to hire an employee is a big one, but it doesn't have to be daunting

Choose the type of employee you want to hire based on your needs

There are many legal considerations, but there are lots of resources for you access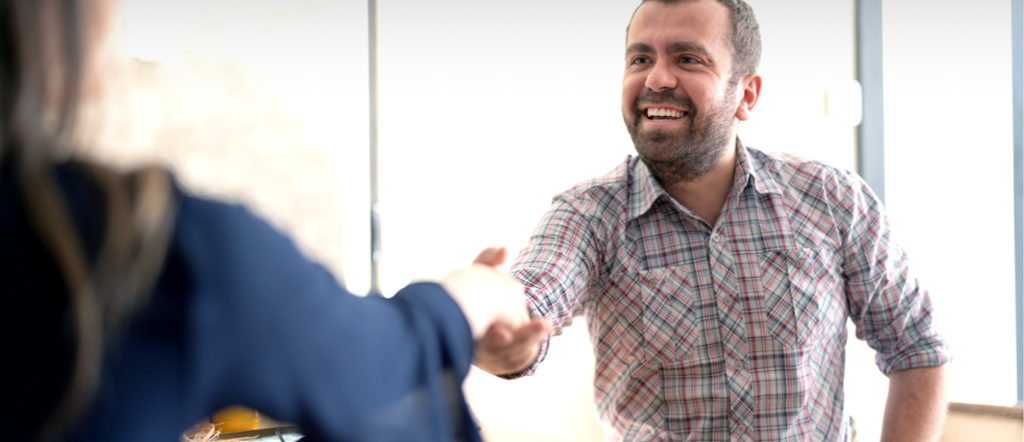 How do you know when it's time to hire your first employee?
You've done it. You've taken the plunge and started your own business. You've been at it for a while and things are going well – so well that you think maybe it's time to bring on someone to ease your load and help grow your business. It's time to hire your first employee.
It's an exciting time to be sure, but like all important life decisions, there's a lot to consider. Before posting the job, it's a good idea to think through our guide to hiring your first employee.

The potential role
Where do you start? The best starting point is to define a potential role by keeping a list of tasks that need to be completed on a daily, weekly, monthly and even annual basis and the time it requires. Remember to consider upcoming projects that require a certain skillset and work a potential employee can do throughout the week when specific projects are finished. Once that list of tasks adds up to at least 10 to 20 hours per week, that's a good sign it's time to bring on your first employee.
As for what's involved in hiring an employee, there are 3 major aspects to consider; what's in it for you (the employer), what's in it for them (the employee) and the legal and administrative work required to make it happen.

What's in it for you, the employer?
Whatever your field or industry, when you run your own business and you've grown to the point that you need someone to share the load, it's a good sign. It means that your business is succeeding and growing, which is exactly what you set out to do. Congratulations!
Aside from the extra hands to help run the day-to-day operation of your business, there are other great reasons to expand your business by hiring your first employee.
Not only will having an employee free up some much-needed time for you to focus on the goals and objectives for your business, being able to delegate some of the more time-consuming tasks can help ease your mental load. Lightening your workload allows for a healthier work/life balance – it will literally free up time but will also potentially help relieve the stress of feeling like you must do it all, which can lead to improved mental health and overall well-being.

Diversify your thoughts – having other perspectives when talking through ideas or challenges can inspire you to think in new ways.

Help you think of ways to grow your business in ways that you haven't considered.

Having a colleague gives you the interaction that perhaps you've been missing being on your own. It's great to have someone who knows your business well to talk things through, and bounce ideas off each other. Hiring an employee provides support not only to the business itself, but to you, the business owner. Everyone needs support.

You get to provide an opportunity to someone who is just starting out in your industry to learn and become experienced in the field. Not to mention, you can take on a mentor role which is great for the employee, but equally great for you.
What's in it for the employee?
It's a competitive market out there and as the owner of your business you want to make sure you're offering a potential employee an attractive offer and hopefully inspire them to stay with you long-term. Here are some things to consider when designing the role for your first employee.
Compensation
Consider how you can compete with other companies on pay – research similar roles in the region to understand salary averages, etc.
A benefits program is considered both a perk and as part of an employee's total compensation. Things such as health and dental insurance and prescription coverage are the bare minimum of what most employers provide. In addition to those things, there are other things you could consider including in your benefits package that might make your company more attractive than competitors.
Consider benefits such as:
Gym membership
Flexible plans allowing employees to choose where their cash goes vs. a standard plan where people may not use some services
Perks/discount deals
Work from home/remote work/hybrid model
Work that encourages a friendly, inclusive culture, for example the option to listen to music while working, informal vs. formal attire, flexible hours, etc.
Paid parental leave
Paid time off for volunteer work
Retirement plan (possibly includes matching)
Wellness plan to cover health/activities
Scholarships
Team building experiences like events, gatherings for certain celebrations, etc.
Student loan assistance – this could be an especially attractive benefit for recent graduates.
Goals
In addition to compensation, another key component a potential employee might find attractive in an offer is the opportunity to reach specific goals such as learning a particular skill or platform, exposure to other mentors in the field, etc. A few things to consider:
How will you help your employee achieve what they want? Be it furthering their career or learning new skills.
Innovation/creative – Allow the employee to be heard. They may have an innovative way of problem solving that you (the owner) may not have thought of or a fresh perspective to bring to the table.

Legal and administrative considerations
Navigating the legal aspects of hiring a new employee doesn't have to be intimidating. It simply comes down to filling out a few forms and complying with certain government regulations.
If you are a business owner and you've never hired anyone before, working with an employment lawyer is strongly recommended. There are a lot of details and contingencies, so it's a good idea to work with someone who will be able to guide you and help you make decisions about what type of employee to hire, but also to support you through the process of getting it set up legally. They can also help you with writing a contract (if you hire a contractor/freelancer) and when it comes to negotiating that contract.
There are some important steps to take to legally hire a new full-time employee in Canada.
To setup a payroll deductions account (PDA), you require a business number. If you don't have a business number, you must register for one. You'll need Form RC1 - Opens in a new window .
Be sure to get the employee's Social Insurance Number (SIN).
Familiarize yourself with your local labour laws including:
Minimum age to work legally work in Canada
Wage regulations
Work hours per week
Fair treatment
You can find this information for both a federal - Opens in a new window and provincial - Opens in a new window level on government websites (Ontario is used as an example here).
As a business owner, you'll need to ensure you have consulted your provincial Workplace Safety and Insurance Board (WSIB) or Worker's Compensation Board/Commission (WCB) to understand what is mandatory to put in place and what is not. This is dictated by the type of industry your business belongs to, whether it's insurance, private daycare, clubs, barbers/hair salons, etc.
Know an overview of the rules and regulations for health and safety and understand the purpose of both the Occupational Health and Safety Act (OSHA) - Opens in a new window and the Employee Standards Act (ESA) - Opens in a new window , a version of which exists in every province and territory in Canada. These pieces of legislation outline the rules around things such as:
Paid overtime
Minimum wage
Work hours
Paid vacation days
Termination
Public and statutory holidays
Job posting and advertising
Firstly, and crucial to creating the job description itself, consider what makes the most sense for your business and your needs. It could be a permanent employee, permanent part-time employee or contract/freelance employee. Think about the pros and cons - Opens in a new window of each, understanding that hiring any employee will cost more than just the salary you pay them. You must contemplate such expenses as; taxes, workers' compensation, equipment, workspace, and benefits.
Hiring a contractor for a specific project requires little overhead costs relative to a fulltime employee. However, a permanent employee could potentially have a keen sense of company loyalty, a sense of investment in you and your business, and a longer-term commitment to your vision.
Additionally, if you are planning to hire a contractor/freelancer, be sure to research the legal processes that are involved and varying rules depending on the type of contractor you're hiring. For instance, the way payroll is set up differs if the contractor is incorporated.
Once you've decided what type of job you're going to offer, create a compelling job description. The more you can make your job posting stand out, the better, especially as a small business. Be sure to include an engaging, yet concise description of the role and a clear indication of what exactly the job entails. It might even be a clever idea to explain that you're hiring your first employee and how excited you are to be growing your business.
To help you find the best talent for your open position, be sure to include the following elements in your job description:
Accurate job title
Overview of your company
A statement about your company's values
Key job duties and responsibilities
Required and preferred skills
Employee benefits or perks
Also, it's important to consider how the posting will be marketed and by whom – do you plan to post it on job boards? Social media platforms? Your own company's website? And finally, who will manage the life of the posting? If you will be managing it, be sure to take the time for general administrative maintenance and interview time into your schedule for the duration of your recruitment.
The interview process
Before you even get to the interview itself, it's important to consider that even though a potential candidate might seem to meet all your criteria and are an apparent match for the role you're looking to fill, it could be helpful to have a 5-minute pre-interview call. This can help you weed out the need for a longer, more formal interview.
You can do this by asking just a few key questions such as; why does this job appeal to you? You could also ask pointed questions about core values important to you and your business philosophy. For example, if one of your values as an employer is creating a joyful work environment, you might ask what brings them joy?
Once you narrow down your candidate pool through pre-interview calls, you will conduct formal interviews. Here's a rough framework for you to get started.
Background

Ask open-ended questions about the candidate's skills relative to the position you're hiring for. Be sure to familiarize yourself with their resume to get a sense of their experiences. A great question to ask is why they left/are leaving their current or previous role. This is a great way to find out what the candidate's true motivation is.

Awareness

Ask the candidate to recall a specific past work experience that they found challenging and how they overcame it. The key here is to get a sense of your candidate's problem-solving skills, but also more broadly, their willingness to learn from mistakes and receive constructive feedback, and then turn it into an actionable plan.

Stress

Every industry and line of work has its own stresses, and just as diverse as the people dealing with those stresses, so too are their coping strategies. Ask about the pressures they have faced in previous roles and importantly, how they dealt with the situation.

Organization

A commonly accepted skill needed to succeed in almost any position is the ability to multi-task. The goal of this question is to assess your candidate's record of and commitment to efficient time management.

Performance

It's always a great idea to ask your candidate about any specific achievements in past roles, especially those which are relevant to the role they're interviewing for with you.

Teamwork

It's a given these days that one's ability to work well within a team is crucial. Try to tease out some examples of how they work with others – perhaps they're a quiet listener who needs time to process ideas before bringing them to the larger group. Or, perhaps they're a natural collaborator whose best ideas come from talking things through with teammates in real time. Or maybe they're sweet spot is somewhere in between. Get a good sense of how your candidate feels they work with a team so, if successful, you know what to expect.

Communication

Nearly 93% of communication is non-verbal - Opens in a new window . During the interview process, be sure to pay attention to these non-verbal cues to complete your overall impression. Things such as how they present themselves, their use of language, comfortability with new people and environments. Whether conducting the interview in person or over video chat, it's important to take note of your candidate's overall communication.

Leadership

Whether the position your candidate is interviewing for is a true leadership role, or you're curious about their leadership tendencies and/or skills, this is a good line of questioning to go down. Specifically, it's advantageous to you, as the business owner, to ask them about moments in their career when they brought forth a new idea or way of doing things, especially if it resulted in gained efficiencies and/or cost savings.

Motivation

One of the most important questions to ask of a candidate is simply, why do they want the job? What is it that motivates them, what are some of their short-term and long-term goals, what do they value in a workplace, an organization, in life. These kinds of questions will reveal a lot about the person you will potentially be working closely with, so it's important to ask.
Final thoughts
Remember, fit is often more important than specific skills or experience. Thinking long term, you want to work with people who blend well with you and with each other. Hard skills like learning a particular platform/system, understanding the workflow of your business, or simply being a person with whom you and your business align, end up being better indicators of long-term employment.
Hiring the right people to work alongside you helps foster deep, meaningful, and trustworthy relationships. So, consider the less obvious qualities in a candidate, and look for those who are a fit with you and your company and just need some training to succeed in your organization.

What's next?
Consider consulting an employment lawyer

Gather and read through helpful resources

Determine what your end goal is in hiring an employee

Seek advice from other business owners who have recently hired their first employee – they will likely be able to share tips based on their own experiences
The information provided is based on current laws, regulations and other rules applicable to Canadian residents. It is accurate to the best of our knowledge as of the date of publication. Rules and their interpretation may change, affecting the accuracy of the information. The information provided is general in nature, and should not be relied upon as a substitute for advice in any specific situation. For specific situations, advice should be obtained from the appropriate legal, accounting, tax or other professional advisors.