Saving lives takes teamwork
We support Hockey Gives Blood Player Ambassadors and the meaningful work they do in communities across Canada.

About Hockey Gives Blood
Founded in 2018, Hockey Gives Blood is a non-profit formed by former players who wanted to help the hockey community following the Humboldt Broncos Tragedy. Combining their love of the game with a passion for helping others, their goal is to encourage players, coaches, parents and fans to donate and support Canada's Lifeline.

What is the Hockey Gives Blood Player Ambassador Program?
Presented in partnership with Hockey Gives Blood and Canadian Blood Services, the Player Ambassador Program supports young hockey players as they promote the ongoing need for blood, stem cells, and organ and tissue donations.  Many of the players are donors themselves, and share the goal of inspiring the next generation of donors, supporting Canadian communities, and helping to save lives.

Proudly supporting the 2020-21 season
Canada Life is proud to be the presenting sponsor of the Hockey Gives Blood Player Ambassador program.

This season is especially important, as the need for donations has grown since the start of the pandemic.

We're proud to support the program's goal of encouraging Canadians to consider donating blood and to join the national stem cell registry.

Register to donate
Find out how you can make a difference by donating blood or plasma, or by joining the Canadian Blood Services Stem Cell Registry.

- Opens in a new window
Supporting the Dayna Brons Honorary Award  Bursary
Dayna Brons was the athletic therapist for the Humboldt Broncos, and a regular blood donor.
To honour her legacy, each year an award and bursary of $5,000 is presented to a Hockey Gives Blood Player Ambassador. This is to recognize outstanding advocacy in support of Canadian Blood Services' programs.
We're proud to fund the Dayna Brons Honorary Award bursary this year, which has been awarded to Braden Haché, defenceman with the Kingston Frontenacs.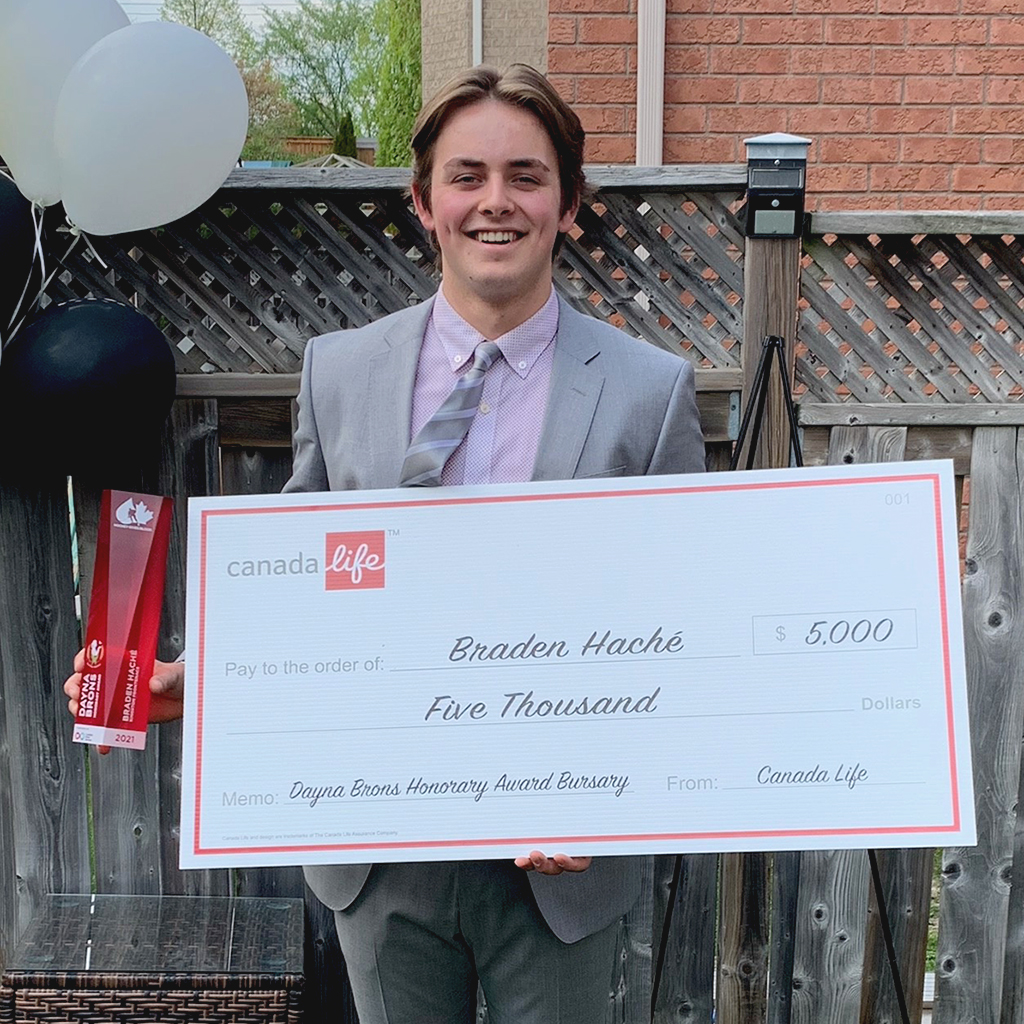 Meet some of the Player Ambassadors
Want to know more?
Find out more about Hockey Gives Blood and the Hockey Gives Blood Player Ambassador Program, as well as how you can donate or get involved.

- Opens in a new window
Canadian Blood Services is a registered charity — Charitable Registration no. 870157641RR001.

Explore more from Canada Life