Canada Life Championship raises $32,000 for Childcan
September 18, 2019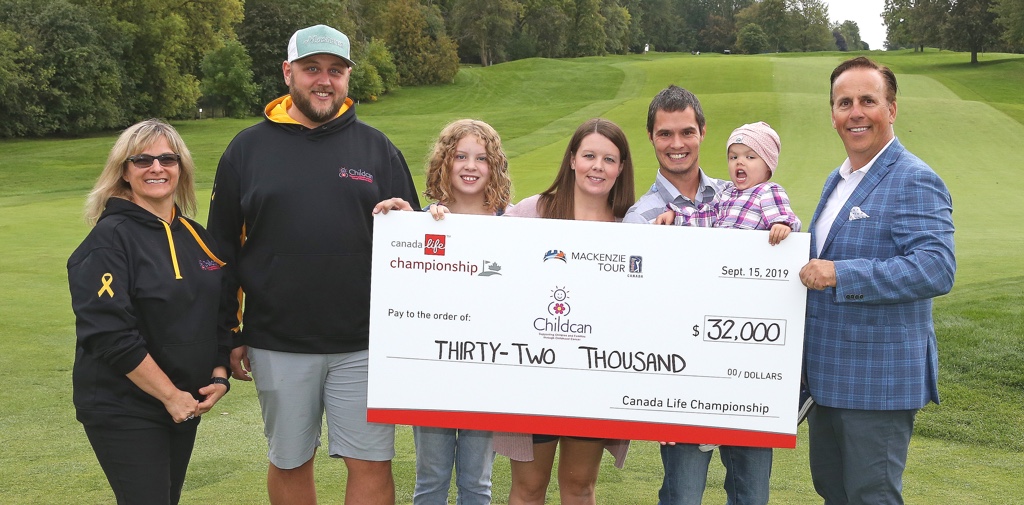 Utah's Patrick Fishburn won the Canada Life Championship this past weekend at the Highland Country Club after shooting 64 on both Saturday and Sunday, but he wasn't the only winner.
The tournament also raised $32,000 for Childcan, which is the official charity of the Canada Life Championship.
Childcan supports families facing the journey through childhood cancer by providing a number of programs and services. Helping with hospital expenses, counselling and emotional support programs, and organizing social outings are just some of the things Childcan does to make things easier for families going through a tough situation.
This is the second consecutive year Childcan has been the Canada Life Championship's official charity, and the total money raised for the organization is now at $77,000.
The money raised at the Canada Life Championship isn't unusual for the Mackenzie Tour – PGA TOUR Canada. The tour is focused on supporting Canadian communities where their tournaments are held. They raised more than $1 million last year across all their events for different charities.
Canadians win top honours
In addition to Fishburn, Taylor Pendrith and James Allenby were also winners Sunday, capturing the Canadian Player of the Year and Canadian Player of the Week awards respectively. Pendrith earned a cheque for $25,000 from Canada Life, while Allenby pulled in $2,500 for the week.
"Canada Life has been a great supporter of the Tour for the last few years," Pendrith said after the event in London, Ont.
"It's an awesome little bonus for the Canadian players who compete out here for $2,500 for Low Canadian. It's a competition within the competition. They do a fantastic bonus, I won it in 2015 and super honoured to win it again and be the top Canadian."

Featured news
Acquisition aligns with Canada Life's vision to establish a leadership position in the Canadian independent advisor wealth market.
Canada Life Investment Management Ltd. announces changes to the investment strategies of Canada Life Global Multi-Sector Fixed Income Fund and Canada Life Pathways Global Multi Sector Bond Fund.